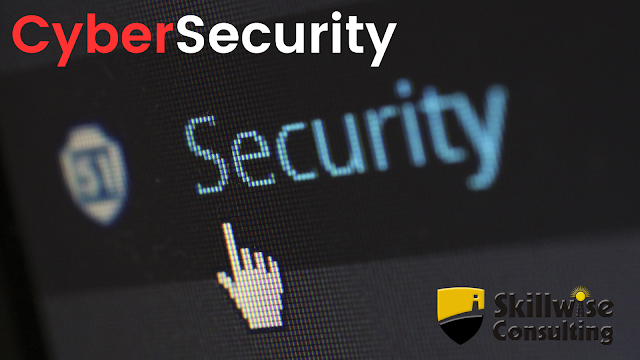 Skillwise Consulting - Cyber Security Training Program for Corporates
Skillwise Consulting - Cyber Security Training Program for Corporates
Cybersecurity is a growing concern for businesses of all sizes, as cyber attacks become increasingly frequent and sophisticated. The cost of a cyber attack can be devastating, both financially and to an organization's reputation. That's why it's essential to have a well-trained team of cybersecurity professionals to protect your organization's assets. Skillwise Consulting's Cyber Security Training Program can help ensure that your organization is well-prepared to defend against cyber threats.
Our comprehensive Cyber Security Training Program covers a wide range of topics, including threat detection, vulnerability assessment, network security, cloud security, and more. Our program is designed to provide your employees with the knowledge and skills they need to identify potential cyber threats, develop effective defense strategies, and respond to cyber attacks when they occur.
One of the key benefits of our Cyber Security Training Program is that it is tailored to the needs of your organization. We understand that every organization is unique, with its own specific cybersecurity challenges and requirements. That's why we work closely with you to develop a training program that is customized to meet your organization's needs. Whether you need a program that focuses on specific cybersecurity technologies or covers a broader range of topics, we can create a program that meets your requirements.
Our Cyber Security Training Program is taught by experienced instructors who are experts in their respective fields. Our instructors have years of experience in the cybersecurity industry and are skilled at teaching complex concepts in a way that is easy to understand. They use a variety of teaching methods, including lectures, hands-on exercises, and group projects, to ensure that your employees receive a well-rounded education.
Another benefit of our program is that it offers employees the opportunity to work on real-world projects. This allows them to gain practical experience and apply the concepts they learn in class to actual cybersecurity challenges. Our instructors provide valuable feedback and guidance throughout the project, which helps employees develop their skills and grow as cybersecurity professionals.
Our program also helps employees stay up-to-date with the latest trends and technologies in cybersecurity. The cybersecurity field is constantly evolving, with new threats and technologies being introduced all the time. Our instructors are knowledgeable about the latest trends and developments and incorporate this information into their teaching. This ensures that your employees are well-prepared to work with the latest cybersecurity technologies and techniques.
In addition to the benefits mentioned above, our Cyber Security Training Program can also help your organization stay compliant with relevant regulations and standards. Many industries have specific cybersecurity regulations that must be followed, such as HIPAA for healthcare organizations and PCI DSS for payment card industry businesses. Our program is designed to help your employees understand these regulations and develop effective compliance strategies.
Furthermore, our program can also help boost employee morale and engagement. Investing in employee training shows that you are committed to their professional development and growth. This can improve employee satisfaction and retention rates, which can have a positive impact on your organization's overall performance.
Finally, having a well-trained team of cybersecurity professionals can help improve your organization's overall security posture. By being well-prepared to defend against cyber threats, your organization can minimize the risk of data breaches and other cybersecurity incidents. This can help protect your organization's reputation and financial well-being.
In conclusion, Skillwise Consulting's Cyber Security Training Program offers a wide range of benefits for organizations of all sizes. By equipping your employees with the skills necessary to identify and defend against cyber threats, you can minimize the risk of cybersecurity incidents and protect your organization's assets. Additionally, our program is flexible, customizable, and designed to help employees grow and develop their skills. Contact us today to learn more about how our Cyber Security Training Program can benefit your organization. www.skillwise.in